The Importance of Van Security
In an era where vehicle thefts and break-ins are becoming increasingly common, the security of your van is paramount. From the tradesman who relies on his van for livelihood to the family using it for leisurely drives, everyone deserves a sense of security. We aim to provide a detailed guide on how to ensure that your van remains as secure as possible.
It's not just about safeguarding your vehicle; it's about the tools, equipment, and sometimes, personal belongings inside it. A break-in doesn't only result in monetary loss but can disrupt your daily routine and work. With this in mind, ensuring that your van is protected becomes essential.
Essential Security Measures for Your Van
Installing High-Quality Locks
Deadlocks: These provide an extra layer of security. They're mechanical, and you operate them manually. This means even if a thief manages to pick your main lock, the deadlock remains intact.
Slamlocks: Ideal for delivery drivers and tradesmen who are frequently in and out of their vans. As the name suggests, these locks automatically lock the van doors when you slam them shut.
Vehicle Tracking Systems
In the unfortunate event that your van is stolen, a tracking system increases the chance of recovery. Some sophisticated systems even alert you if your van is moved without your permission.
Security Markings and Stickers
 Label your tools and equipment with either ultraviolet (UV) pens or engraving tools. This can act as a deterrent and can also help in tracing your items if they are stolen. Security stickers on van windows can often deter potential thieves.
Advanced Protective Measures
Installing Security Cameras
Position cameras to overlook your van, especially if parked at home or at work for long durations. Potential thieves may think twice if they suspect they're being watched.
Parking Sensibly
Always try to park in well-lit areas, preferably under streetlights. If you're staying overnight in unfamiliar territories, secure car parks are ideal.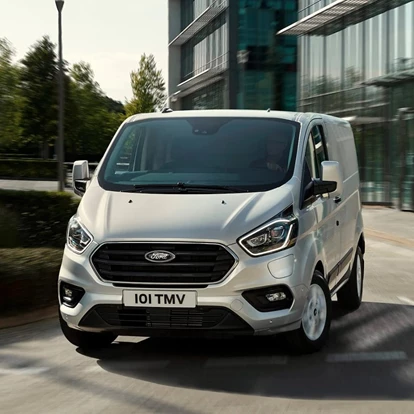 The Digital Realm: Protecting Your Van's On-board Systems
Modern vans are equipped with advanced digital systems, which, while offering enhanced features, can also be susceptible to cyber-attacks.
Software Updates: Regularly update the software in your van. Manufacturers often release patches to counteract known vulnerabilities.
Wi-Fi Protection: Ensure any Wi-Fi network your van connects to is secured with a strong password.
Comprehensive Insurance Coverage
While prevention is better than cure, it's always prudent to have comprehensive insurance in place. This not only covers theft but any potential damage done during a break-in attempt.
The security of your van is non-negotiable. By following the measures outlined above, you not only protect your valuable asset but also enjoy the peace of mind that comes with knowing that you've done everything in your power to keep it safe. Whether it's the advanced digital safeguards or the more traditional physical barriers, every layer of protection counts. Prioritise your van's security today; it's a decision you won't regret.
Top Secure Van Brands and Models
Key Features: It boasts a comprehensive suite of security features including break-in and anti-theft alarm systems. There's also a special locking system that prevents unwanted access to the load compartment.
Optional Features: Advanced tracking services to monitor your vehicle and detect unauthorised movements.
Key Features: One of the first to offer a factory-fitted Thatcham Category 1 alarm system. It also features a reinforced body structure and double-locking system.
Optional Features: Ford's "Guard Mode", a new security system that sends real-time alerts to owners if it detects potential security breaches.
Key Features: A standard-fit alarm system with interior monitoring and backup horn. The T6.1 also comes with a locking system that can secure different sections of the vehicle independently.
Optional Features: Available Deadlocks for added security.
Key Features: Standard electronic immobiliser and selective door locking, which allows the driver's door to be unlocked separately from the rest.
Optional Features: Security alarm system with a siren, available as an add-on.
Key Features: Comes equipped with a hands-free key card, anti-drill door locks, and deadlocking system.
Optional Features: Additional reinforced locks and shielding solutions can be fitted.
Key Features: Standard immobiliser and deadlock locking mechanism. It also features a perimetric and volumetric alarm system.
Optional Features: The brand offers optional additional security packs, providing enhanced protective features.
Key Features: Similar to the Citroën Dispatch, the Expert is fitted with a standard immobiliser, deadlock, and perimetric and volumetric alarm system.
Optional Features: Additional security packages are available, which can further enhance the van's protection.
When opting for a new van, ensure you thoroughly review its security features. The above-listed brands and models have made notable strides in this domain, making them top choices for individuals and businesses alike. However, it's essential to keep abreast of any new security advancements in the market and consider professional installation of supplementary security systems to bolster the existing ones.
FAQ on Van Security
Van security ensures the protection of both the vehicle and the valuable tools, equipment, and personal belongings inside. Enhanced security measures can prevent potential thefts and break-ins, saving you from monetary losses and disruptions.
Vehicle tracking systems are highly effective in locating stolen vans. Advanced systems can alert owners in real-time if the vehicle is moved without permission, aiding in quicker recovery.
Deadlocks provide an additional mechanical lock which needs manual operation, offering an extra layer of security. Slamlocks automatically lock the van doors upon shutting, ideal for individuals frequently accessing their van.
Regular software updates, protecting the van's Wi-Fi connection with strong passwords, and being cautious of unfamiliar digital connections can enhance your van's digital security.
While parking in well-lit areas can deter potential thieves, combining this with other security measures like quality locks, alarms, and tracking systems ensures comprehensive protection.
Yes. Visible security markings can act as a deterrent as they make items harder to sell. They also assist in the recovery and return of stolen items.
The Thatcham Category 1 is a certification given by the Thatcham Research Centre. It signifies that the alarm system has met specific rigorous standards in preventing vehicle theft.
Yes, many aftermarket security solutions can be added to your van post-purchase. This includes advanced locking systems, alarms, tracking devices, and camera systems.
While security measures drastically reduce the risk of theft or damage, unforeseen circumstances can still occur. Comprehensive insurance ensures you're covered for any financial losses, regardless of your van's security features.
---
See what Willow Leasing customers are saying about us:
Our commitment to exceptional service has been recognised through our Feefo Gold Trusted Service Awards for 2021 and 2022, demonstrating our unwavering dedication to customer satisfaction.