The Kia XCeed and Mazda CX-30 are two quite non-traditional cars with elements that make them hard to place in conventional market segments like hatchback or SUV. Both popular models with leasing, we decided to compare them and find out what makes them great cars. For this comparison we are looking at the Kia XCeed 1.5T GDi ISG 3 5dr and the Mazda CX-30 2.0 e-Skyactiv X MHEV SE-L Lux 5dr. We will look at their design, driving performance, practicality and safety.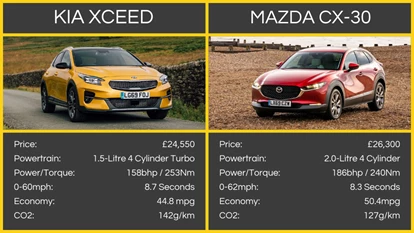 Design
Both cars use a mixture of elements from traditional hatchback cars and SUVs. The Kia XCeed uses the same platform as the Kia Ceed Hatch whilst the Mazda CX-30 uses the same platform as the Mazda 3. Both cars are similar to their hatchback counterparts apart from a few differences to give them a more SUV-like look with no drawbacks like excess weight or a high centre of gravity. The two cars have more ground clearance and chunkier wheel arches than their hatchback versions and the Kia XCeed has a longer and wider body as well.
Driving Performance
Both cars have a firm suspension, but the Mazda CX-30 feels more composed and grippy in corners. However, the Kia XCeed's turbocharger means that it has more torque than the Mazda, so it accelerates more effectively. Mazda has more bhp, but the Kia's higher torque means that it feels faster when you are behind the wheel.
The CX-30's gearbox feels faultless when compared to the XCeed. It feels similar to that of the brand's sports car, the MX-5 – slick and perfectly positioned in the cabin. The XCeed's gearbox is nothing to sneer at though with a slick action that works but is not quite so polished as the CX-30.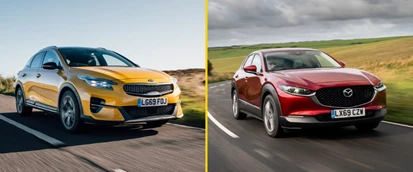 The Mazda CX-30 lacks a turbocharger but has an interesting piece of equipment which makes it quite clever. The Skyactiv-X engine uses something called 'Spark Controlled Compression Ignition'. This feature makes the car run like a diesel when you want a more economical drive but more like a petrol when you want extra performance. It's a complicated system but gives you that little extra when you are behind the wheel.
Both cars are generally very quiet inside the cabin especially on the motorway where there is minimal wind and road noise. The Kia XCeed is also very quiet at idle as well while the CX-30 does tend to make more noise when stopped.
Practicality
The Mazda CX-30 has the larger boot size of the two cars with 430 litres of space when compared to the XCeed's 426 litres. Although not a large as a standard SUV, they both still are practical for a family car. When it comes to passenger space, both cars have good amounts of legroom and while the Kia has plenty of head room for an adult to get comfortable, the Mazda has a little bit less; making it a tight squeeze.
The Kia XCeed comes with a 10.25-inch infotainment system as well as Android Auto and Apple Car Play as standard. Some other standard equipment for this Kia XCeed model (1.5T GDi ISG 3 5dr) includes: climate control, heated seats, sat-nav, keyless go, cruise control and LED lights.
If you are interested in using one of these cars to tow, the Mazda CX-30 would be your best bet with a towing capability of 1300kg compared to the XCeed's 1000kg.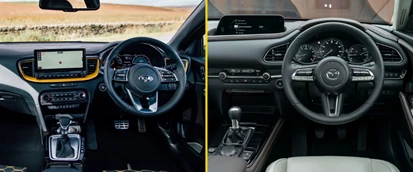 Safety
The Mazda CX-30 is rated five stars by EuroNCAP with 99% for Adult Occupant Safety, 86% for Child Occupant Safety, 80% for Vulnerable Road Users and 77% for Safety Assist. Some safety features that come as standard include blind-spot assist, lane-keeping, parking sensors all-round and reversing camera.
The Kia Ceed (and by extension the Kia XCeed) was rated five stars by EuroNCAP. Some standard safety features include automatic emergency braking, lane keep assist, parking sensors and a reversing camera. The XCeed also has Kia's impressive seven year/100,000 mile warranty compared to Mazda's three year / 60,000 miles warranty.
Conclusion
Both the cars stack up well against the other with a lot of similarities between the cars. The Mazda is more expensive but is a great drive, has large boot space and is the more efficient of the two. The Kia is a good drive as well as a little more spacious in the cabin, but its economy is a little on the low side compared to the CX-30.
Both cars are worth looking into and you can check out our latest lease deals for both the XCeed and CX-30 today.