Where to begin? Over the years, there have been many iconic vehicles that have graced the silver screen and I wish I could lease some of them for myself! From the iconic DeLorean DMC-12 ("Back to the Future") to James Bond's Lotus Esprit S1 ("The Spy Who Love Me"), there has never been a greater selection of cars that we remember from our movie marathons. Check out some of these cars below and take a trip down memory lane.
The Tumbler - "Batman Begins"
The Batmobile of choice for Christopher Nolan's Dark Knight Trilogy, this tank-like car rumbled onto screens in 2005 in "Batman Begins". The Tumbler was powered by a bulky 350-cid Chevy V-8 engine and it can reach 60 in roughly five seconds. Its front 37-inch off-road tires are mounted to an independent front suspension which provides around 30 inches of suspension travel. Its militaristic structure is thanks to its body being built of more than 65 carbon-fibre panels.
It was a Batmobile that took an entirely new design compared to its previous renditions which only made it a more iconic vehicle appearing on the silver screen.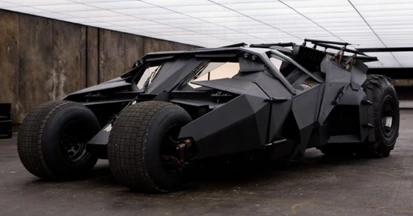 1959 Cadillac Miller-Meteor - "Ghostbusters"
The vehicle of choice for the not-so-superior ghostbusters, the Ectomobile was its own loud and obnoxious character from the movie. It was made from a 1959 Cadillac Miller-Meteor which was a limo-style, end loader, ambulance conversion and was created by Steven Dane. White and emblazoned with the eye-catching ghostbusters logo, the Ectomobile had a 6.3 litre V-8 engine and 320 horsepower.
It was a perfect car for the Ghostbusters as it was large enough to hold all the tools and equipment they needed; fitted out with a storage tank for captured ghosts and an adapted gurney to hold the squad's proton packs. This car is certainly one we won't forget.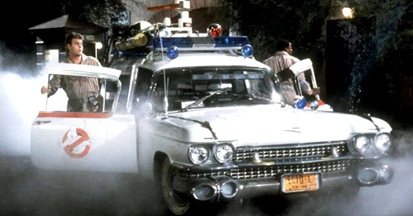 Volkswagen Beetle - "Herbie: The Love Bug" & "Bumblebee"
There is no car more recognisable than that of the VW beetle. It is a car that is shared by cute race-loving Herbie and heroic yet insecure Bumblebee from the Transformers franchise.
Herbie drove onto our screen and into our hearts in 1968 with his first film debut. He was a VW beetle with a lot of character and a mind of his own. He is distinguished by his colour scheme, cream with a blue, white and red racing stripe, and his iconic number 53.
Bumblebee is probably most famously known as a yellow Chevrolet Camaro in Michael Bay's explosive Transformers franchise, however, he returned as a cute yellow 1967 VW Beetle in his latest instalment in 2019. He proved that even a car that small can be a world-saving hero.
Both Herbie and Bumblebee go to show that a VW beetle has a lot of character for a car.

1981 Delorean DMC-12 - "Back To The Future"
The DMC-12 DeLorean was a perfect fit for the time machine needed in the cult classic "Back to the Future" franchise. Although the original didn't include a Flux Capacitor, its gull-wing does give the car its futuristic feel. Under its hood though, modifications had to be made. Its 2.9 litre V-6 was swapped for a V-8 from the Porsche 928 – that certainly helps the car reach its required 88 mph!
Although it is now considered a movie car celebrity, the DeLorean flopped on the market in the 80s. It remembered now mostly for its role in the Back to the Future Franchise and has a strong cult following today.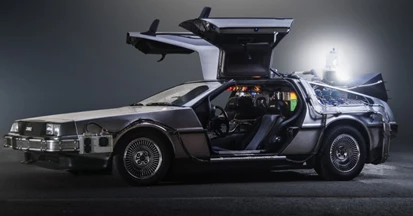 1976 Lotus Esprit Series 1 - "The Spy Who Loved Me"
Although the Aston Martin DB5 is another symbolic James Bond car, the Lotus Esprit has to be the most memorable for its water transformation. There were two Lotus Esprits used in the film with one of those being the modified "Wet Nellie". The underwater car was fully water-tight with articulated fins and underwater motors. No one can forget when James Bond drove his car off the pier only for it to transform into a submarine and swim away. It was a great moment to witness and it was made so thanks to this iconic car.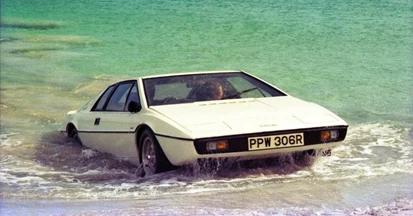 The Minis - "The Italian Job"
A trio of red, white and blue Mini Coopers have also become a staple in heist film history. Used in both the original British version in 1969 and the American adaptation in 2003, these cars were used to evade pursuers by driving down tight streets, subway stairs and sewer pipes. On their own they are probably not as recognisable, but the trio stand out together for being a car that is synonymous with transporting gold.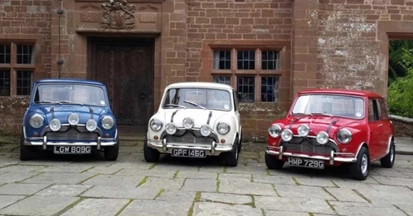 Chitty Chitty Bang Bang - "Chitty Chitty Bang Bang"
A car from our childhoods, Chitty Chitty Bang Bang is a car unlike any other. For the film six versions of this car were created. This included one fully-functioning car that had the UK registration of GEN 11. The car was an original design by the Ford Racing Team and had a Ford 3000 V-6 engine. This car was great imagining of the car from Ian Fleming's novel and the film was a wonderful adventure to be a part of.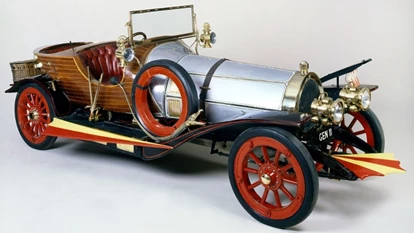 Got a question?
Feel free to get in touch to see how we can help.