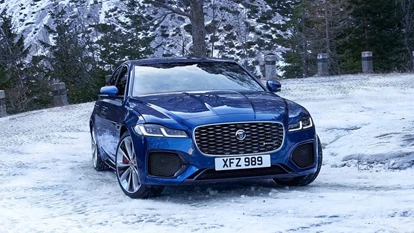 This is the new Jaguar XF. The most recent edition of this executive Jaguar model introduces a variety of changes to further enhance its driving experience and makes it a great luxury car to take out on the road. The Jaguar XF also comes in an estate version – the Jaguar XF Sportbrake.
Listed below is everything you need to know about the new Jaguar XF.
Jaguar XF - Engine Options
The new Jaguar XF comes with three engine options: two petrol engines and Jaguar's first diesel mild hybrid that has a 48V lithium-ion battery under its bonnet. Check out the features of each engine option in the table below:
| | | |
| --- | --- | --- |
| Petrol (Low Power) | Petrol (High Power) | Diesel (Mild Hybrid) |
| 247bhp | 296bhp | 201bhp |
| 0-62mph in 6.5 | 0-62mph in 5.8 | Fuel Consumption: 57.2mpg |
| 8-Speed Automatic | 8-Speed Automatic  | Emissions: 313g/km |
| Rear-Wheel Drive (RWD) | All-Wheel Drive (AWD) | Both RWD and AWD |
Jaguar XF - Exterior Upgrades
Jaguar have upgraded the XF's headlights with new super-slim LEDs that provide better coverage when driving at night making it safer on the road for drivers. An update in its looks gives it a more stream-lined and distinguished style. This is thanks to a wider grille and new bumpers on both the front and rear of the car.
Jaguar XF - Interior Upgrades
The new Jaguar XF has numerous upgrades on the inside. For more comfort and a better driving experience, the centre console has been enhanced to include an 11.4 inch curved glass touch screen which controls the Pivi Pro infotainment system.
This system has sharper and brighter graphics with a slicker user interface. The infotainment system also includes a dual sim setup which ensures the best connection possible but also makes sure that functions like streaming and Jaguar's over-the-air update system can operate at the same time without either losing anything in performance. Also features like Apple CarPlay and Android Auto are both standard as well as wireless smartphone charging to ensure that you are getting the most of your Jaguar.
The New Jaguar XF
We're certainly looking forward to checking out this new Jaguar out on the roads. If you're interested in any of our current Jaguar deals, check them out here to see offers on F-Type, F-Pace, XE and XF cars!
Got a question?
Feel free to get in touch to see how we can help.